Kunqu opera performances: Four Dreams of Linchuan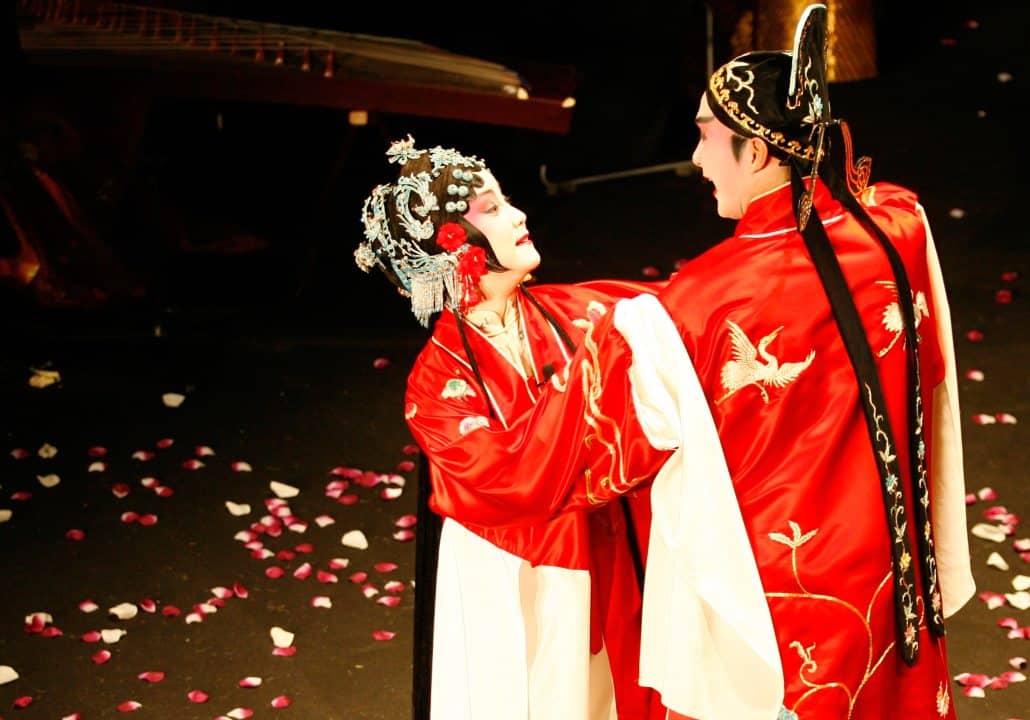 On the occasion of the 400th Anniversary of the death of Tang Xianzu and William Shakespeare, the China Cultural Center would like to invite you to the time-leaping and space-transcending dialogue between the two literary masters and to appreciate the beauty of Chinese culture from a contemporary perspective!
The year of 2016 marks the 400th anniversary of the death of Tang Xianzu and William Shakespeare. In homage to these two giants of literature and drama and with the purpose of promoting the Chinese aesthetics culture, the China Cultural Center will organize a thematic series of activities between September 29th and October 15th, titled as "Dialogue Across Time and Space —Homage to Tang Xianzu and William Shakespeare". It contains three parts namely: an exhibition, Kunqu opera performances (accompanied by lectures) and screenings of Chinese opera documentaries.
Kun Opera
Kun Opera, also called "Kunqu", It is one of China's classical operas with a history of more than 600 years dating. During the Ming and Qing Dynasties, it became one of the most famous Chinese opera forms, influencing varieties of other opera forms in China. For this, it is deemed the "mother of Chinese local operas".
Kun opera has a whole complete set of performing system and owns rich repertoire. Words are elegantly written, melodies are beautiful and pleasing, performing gestures are attractive and martial arts are stunning. It is said this art form encompasses poem, music, dance and drama into one form. It has significant position in Chinese history of local opera, literature and music.
About Shanghai Kunqu Opera Troupe
Established in 1978, the Shanghai Kunqu Opera Troupe (SKOT) is a key protected national Kunqu institution, which is currently led by Ms. Gu Haohao. With Kunqu Maestro Yu Zhenfei as its first president, SKOT possesses a group of outstanding artists among which 15 of them are national/ provincial Intangible Cultural Heritage inheritors, while 9 of them has attained the China highest theatrical award, the Plum Blossom Prize, on top of which 2 are the awardees of Chinese Government Cultural Award. The troupe has also constantly demonstrated its brilliance in various national theatrical competitions, for instance, the China Art Festival, the Shanghai Magnolia Drama contest and the China Kunqu Festival, etc. The accomplishment of Shanghai Kunqu Opera Troupe has further been recognized by the Ministry of Culture, which claims that SKOT is "a first class theatrical institution with first class of actors, repertoires and performances."
The Shanghai Kunqu Opera Troupe will be giving three performances of Four Dreams of Linchuan, also known as the treasure of Kunqu art, at the China Cultural Center. During the performances, the audience will be able to enjoy many classical Kunqu arias in which the essence of Chinese classic drama culture is firmly kept. In the meantime, Kunqu experts will be helping interpret the opera content aria after aria, so that the audience will have a better understanding of the world of Kunqu opera while immersing themselves in the beautiful tune.
Tang Xianzu was born in 1550 in Linchuan, Jiangxi. He was a Chinese playwright and author of the Ming Dynasty. After several failed attempts, he finally succeed in the imperial examinations and started his career as an official. Throughout this short career, he was free from corruption and held solidarity with the people. He retired in 1598 and returned to his hometown, Linchuan, where he settled in a residence called Yuming and started to focus on the artistic creation of literature and drama.
Four Dreams of Linchuan, alternatively known as Four Dreams of Yuming Residence, is the collective title of his four love-themed plays, namely The Peony Pavilion, The Purple Flute, Record of Southern Bough and Record of Handan. All four plays have a link with dreams. The most well-known among all is The Peony Pavilion.
Performances will take place during 3 evenings from 7.30PM to 9.00PM, on October 3, 4 and 5.
Doors open at 7.00PM
Free access
Registration is compulsory:

The program is subject to change. Follow our Facebook page to stay tuned!
More information about this event: info@cccbrussels.be or +32 (0)2 704 40 20.