Experiencing China!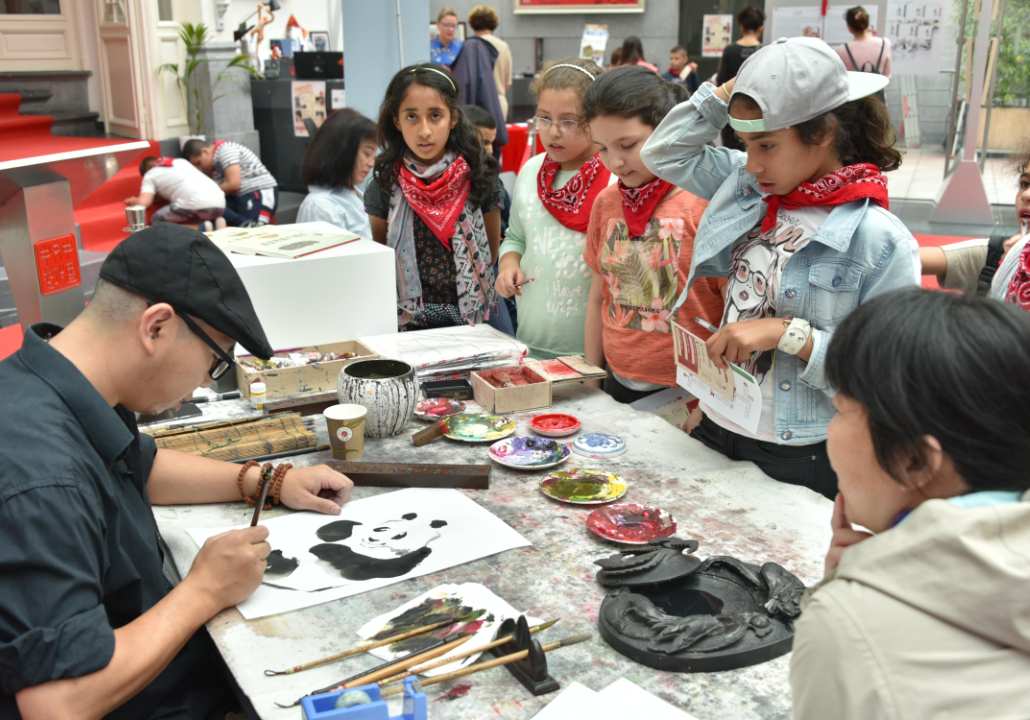 Yesterday, Monday 4th of July the China Cultural Center in Brussels was not celebrating Independance Day but Chinese Culture! And for this first afternoon (still 2 to go! July 7th and 14th) the Experiencing China initiative was well received by the public.
From 13:30 to 18:00, children and grown-ups all tried their hands at the different activities proposed that day. At the calligraphy workshop, with Mr Zhang Wenhai, painter and calligrapher, everyone could use the "Four Jewels of the Study" to draw Chinese characters on rice paper. At the Go game workshop, people were invited to play this ancient Chinese strategic game against, or rather with, Mr Connor, Belgian champion of Go! And on the 3rd floor of the center the visitors were greeted by Mr Wang Jinlong, a Shaolin Monk that demonstrated his impressive skills in Kung-Fu before teaching the audience a few movements.
The visitors were also invited to take part to the Panda's Quiz! A series of questions with two levels of difficulty (Kids and Adult) were placed all around the center and it was up to them to find the right answers, complete their booklet and collect their rewards…No doubt that Master Panda gave their brains a workout!
Besides the drawing contest, the touristic information stands, the instructive panels about the Chinese zodiac, the Great Wall and the pandas and of course the two on-going exhibitions (The Pictorial Exhibition of Ancient Chinese Philosophers & Amazing Shanghai Photo Exhibition) the visitors also had the opportunity to taste a few delicious Chinese snacks.The day was happily concluded with the screening at 18:30 of a Chinese comedy "Lost on Journey".
The next Experiencing China afternoons will take place on Thursday 7th and Thursday 14th of July. So if you missed the first day here are two more opportunities for you to dive into Chinese culture and have fun with friends and family!