Opening Ceremony of the Longquan Celadon Exhibition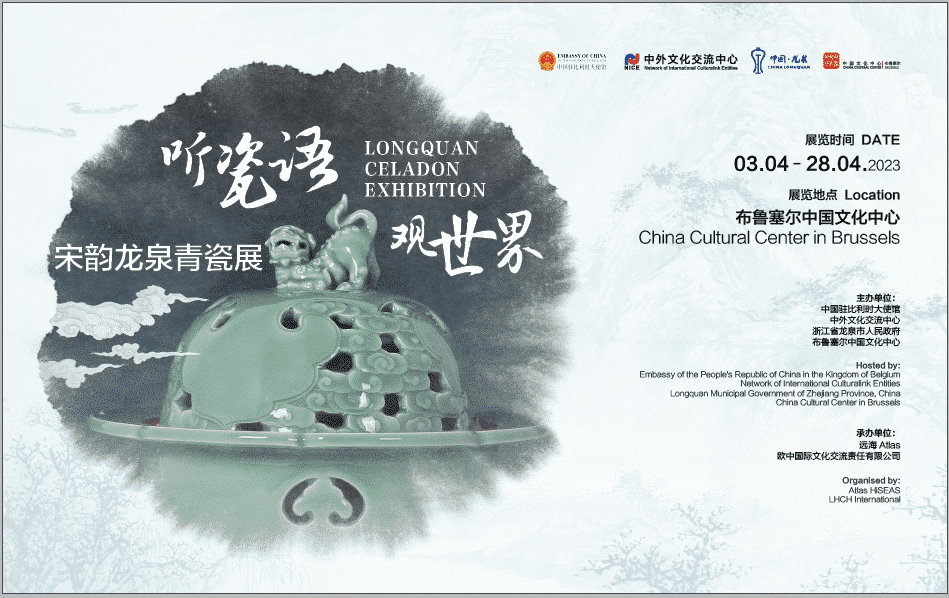 On April 3 afternoon, the "Longquan Celadon Exhibition" jointly hosted by the Embassy of China in Belgium, Network of International Cultural Link entities, the Longquan Municipal Government of Zhejiang Province, and the China Cultural Center in Brussels was inaugurated at China Cultural Center in Brussels. A number of distinguished guests attended the Opening Ceremony, including Mr. CAO Zhongming, Chinese Ambassador to Belgium, and Ambassador's wife, Counsellor YANG Qing; Mr. XIANG Xiaowei, Cutural Minister-Counsellor of the Mission of China to the European Union; Ms. Grace LI, Acting Special Representative for Hong Kong Economic and Trade Office in Brussels; Mr. GAO Wei, Cultural Counsellor of the Embassy of China in Belgium; Mr. Gerard ADAM, Director of M.E.O éditions; Dr. Philip Vanhaelemeersch, Director of Confucius Institute with Howest University, and Ambassadresses of other embassies in Belgium, etc.
The exhibition features 55 pieces of contemporary Longquan celadon works, not only showcasing inheritance and development of celadon skills by Chinese artisans, but also expressing the aesthetic taste and aspirations for a better life of the Chinese people.
Ambassador CAO Zhongming gave remarks at the opening ceremony, this year marks the 10th anniversary of the Belt and Road Initiative proposed by President Xi Jinping. As one of the most distinctive Chinese commodities, porcelain has historically been exported overseas via the Land and Maritime Silk Roads, serving for dialogue and interaction between Eastern and Western cultures. Belgium is located at the western most point of the Belt and Road on the European continent, leaving behind a number of antiquities related to it. As an important component of China-Belgian relations, people-to-people exchanges play a significant role in promoting mutual understanding between the two countries. The exhibition will help the Belgian public to know about and appreciate the cultural deposits and exquisite craftsmanship of Longquan celadon, and to further strengthen the people-to-people bond between the two counties.
The Longquan Celadon Exhibition is now open to the public from April 4 to 28 at the China Cultural Center in Brussels.
Open to the public from April 04 to April 28
Place: China Cultural Center in Brussels