Happy Chinese New Year!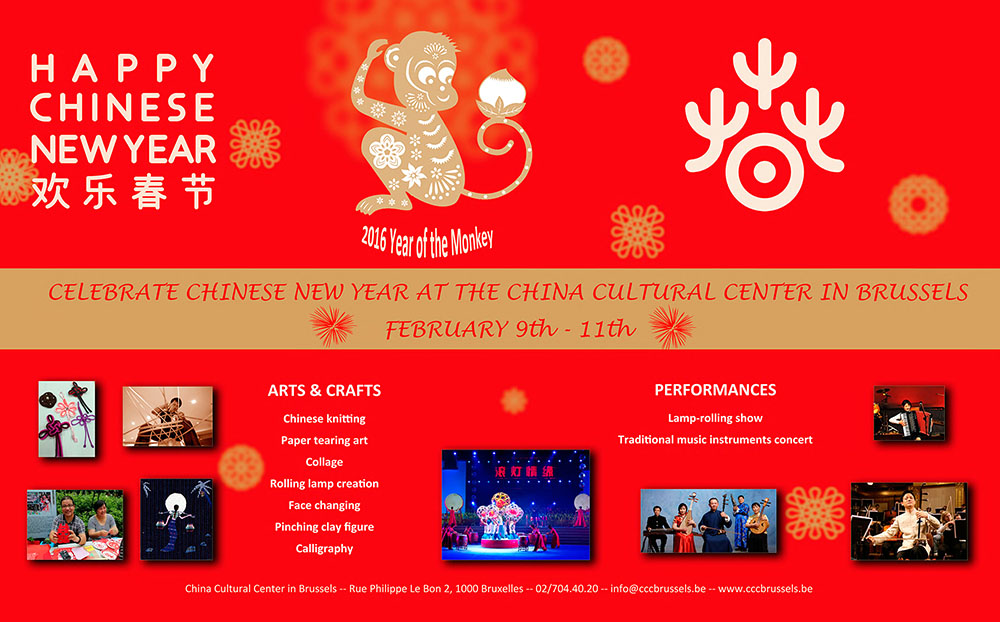 Come celebrate 2016 Chinese New Year at the China Cultural Center in Brussels. During three consecutive days, arts and crafts activities as well as performances will be organised at the Center to mark the Monkey Year.
The Chinese New Year, or Spring Festival, is the most important traditional celebration in China and for all Chinese communities in the world. This festivity is the time for Chinese families to gather, enjoy a nice dinner together, watch traditional Chinese shows, launch fireworks, etc. According to the legend, a ferocious monster called Nian would come down the mountains on the eve of every New Year and eat people. To protect themselves from the evil monster, villagers let off firecrackers and covered their houses with red banners, noises and colour that it would fear most.
On 8 February 2016 will start the year of the Fire Monkey. The monkey occupies the 9th position of the 12 animals in the Chinese zodiac. He is clever, curious, resourceful, enthusiastic and has a talent for doing business.
We invite you to celebrate the Chinese New Year at the China Cultural Center in Brussels and take part in our activities. During three days, the Center will offer you a wide range of activities such as Chinese knitting, paper tearing, demonstration of rolling lamp crafting, face changing and calligraphy.
Activities agenda: