Shanghai Film Week – Adventures of San Mao the Orphan & Feelings of Mountains and Waters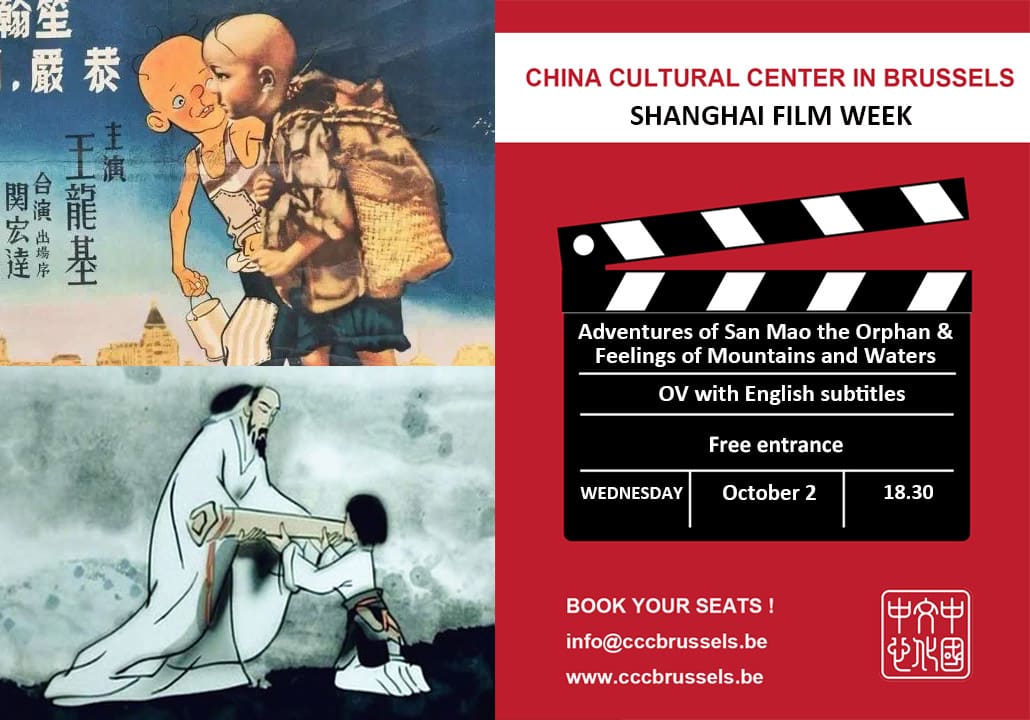 This double film screening, the day after China's National Day, celebrates the 70th anniversary of the founding of the People's Republic of China.
Wednesday October 2 at 18.30: OV + EN subtitles
Adventures of San Mao the Orphan 三毛流浪记 (1949)
Duration: 73 min
Category: Comedy, drama
Director: ZHAO Ming, YAN Gong
Starring: WANG Longji, GUAN Hongda, LIN Zhen, GAO Yiyun, WANG Yi
Synopsis
This is a movie adaptation of the famous San Mao comics of ZHANG Leping. The protagonist's name, San Mao, refers to the three hairs on his otherwise bald head. After a night on the street, San Mao looks for work wherever he can: he polishes shoes, picks up garbage and sells newspapers, but finally decides to give up. He puts a "for sale" sign on his back and goes looking for a buyer. Through all this, he never gives up his honesty and kindness.
Feelings of Mountains and Waters 山水情 (1988)
Duration: 19 min
Category: Short film, animation
Director: TE Wei, YAN Shanchun, MA Kexun
Synopsis
This animated short film does not contain any dialogue, allowing it to be watched by anyone regardless of language or cultural background. The only noises are the sound of the wind or other earthly elements. The film is considered an artistic masterpiece, since it is essentially a landscape painting in motion. Artistically, it uses the "shanshui" painting style. It won the best animated film prize at the Golden Rooster Awards in 1989.
The program is subject to change, follow our Facebook page to stay tuned!
All the Chinese Movie Nights are free of charge but registration is compulsory as seats are limited. Send an email to info@cccbrussels.be or call us on +32 (0)2 704 40 20 to book your seat.