Appreciation of Cheng Shifa's "Great Auspiciousness"
Cheng Shifa (1921-2007) is a master of contemporary Chinese painting and a leading figure in Shanghai-style painting. He is an artist with great achievements and high reputation at home and abroad. He is unique in figures, flowers and birds, and also has outstanding achievements in comic strips, New Year pictures and illustration. He was known for combining Chinese techniques with Western painting methods. He formed a bridge between tradition and modernity.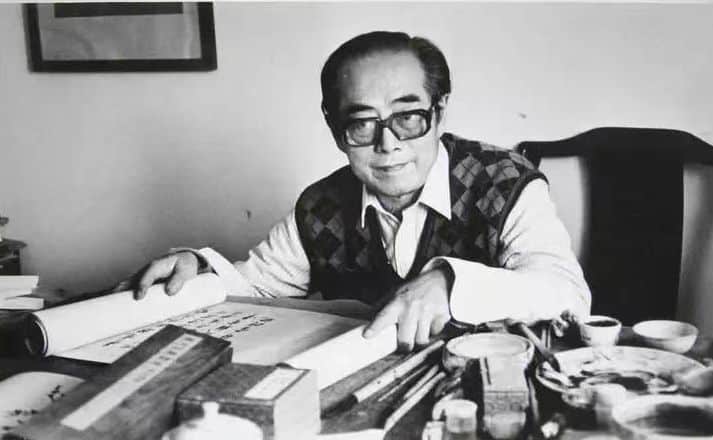 Cheng Shifa pays special attention to the conception of the picture. He gives the characters in his works a unique background, and expresses the background of the characters' stories with precise or unrestrained brush and ink, such as a plum tree, moonlight bamboo forest, flower branches, animals, etc. The comprehensive arrangement of characters or stories creates a warm and unique artistic conception for the protagonist in the painting, making the work more complete and grand.
In "Great Auspiciousness", a girl from an ethnic minority sits on the ground with three sheep squatting in front of her. The girl has round cheeks and smiles. Her image is simple and healthy. Humans and sheep depend on each other. Cheng Shifa uses fine and changeable lines to outline the girl. The image is vivid and slightly exaggerated, showing the fresh and romantic temperament of the girl. The sheep is drawn with a subtractive brush. The main outline is almost written in a heavy stroke, while the positive and negative yin and yang are fat and thin, and the shape is not damaged by the reduction of the brush, which shows the artist's superb brush and ink skills and modeling ability.
Cheng Shifa dabbles in all aspects of Chinese ink painting, which is a presentation of a new way of thinking and provides us with extremely rich ideological resources. He is an irreplaceable Chinese painting master in China in the 20th century.
[Source: China Art Museum (Shanghai Art Museum)]