"Hibiscus" by Xie Zhiliu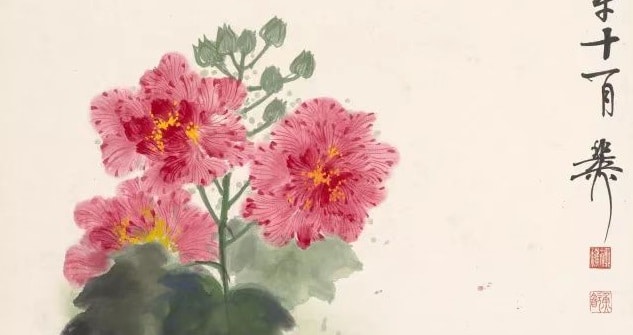 Chinese painting has nourished human civilization by forming the peak of a different style of art from Western oil painting. The China Cultural Center in Brussels in collaboration with the Shanghai Art Museum presents an appreciation of Xie Zhiliu's Chinese painting "Hibiscus".
Xie Zhiliu's artistic career began with the painting of birds and flowers. This painting depicts a hibiscus flower with a light red halo and green leaves beneath the flower. The artist portrays the flirtatious and fresh appearance of the hibiscus flower and its charm of being in bud. The whole picture is finely crafted, with fresh and elegant coloring, the hibiscus branches and leaves are all painted in broad brushstrokes, but the hibiscus flowers and buds are outlined in magenta with small brushstrokes.
The work is thick and strong in both color and ink, and is accompanied by the calligraphy of the inscription on the painting, which is of great interest, and is stamped with an antique seal.
[Source: Shanghai Art Museum]