The home of pandas: tour Sichuan with us
Sichuan province, located in China's hinterland, possesses rich natural and cultural landscapes. It has the largest, most comprehensive panda habitat in the world, with more than 75% of the world's wild giant pandas living here. What else does Sichuan have to offer?
Sichuan Culture and Tourism has a panda mascot named An Yi. His name means "comfortable" in Chinese. In today's video An Yi guides us through some of the province's highlights and shows us why his name is aptly chosen.
Chengdu, Sichuan's capital, is known for its comfortable lifestyle. Though people work hard, the pace of life is unhurried. Drinking tea, sitting around to have a chat, visiting farmhouses, they are all symbols of the comfortable Sichuan way of life. Chengdu is also a fine place to get acquainted with Sichuan cuisine, of which spicy hot pot is a staple.
Sichuan is the birthplace of the Sanxingdui and Jinsha civilizations, which can be traced back to the same period as the Maya civilization. The Sanxingdui archeological site was one of the greatest archeological discoveries of the twentieth century. Gold art from the Bronze Age was unearthed at an unparalleled scale here.
On the eve of the Mid-Autumn Festival, the giant pandas from Sichuan serve as messengers between China and the rest of the world, extending blessings of health, peace and comfort to everyone in the world.
Evidently, the province of Sichuan has a lot in store for travelers. Scan the QR code below to get to know the home of pandas even better!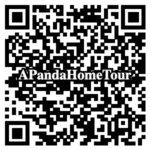 A Panda Home Tour